Kill germs on hands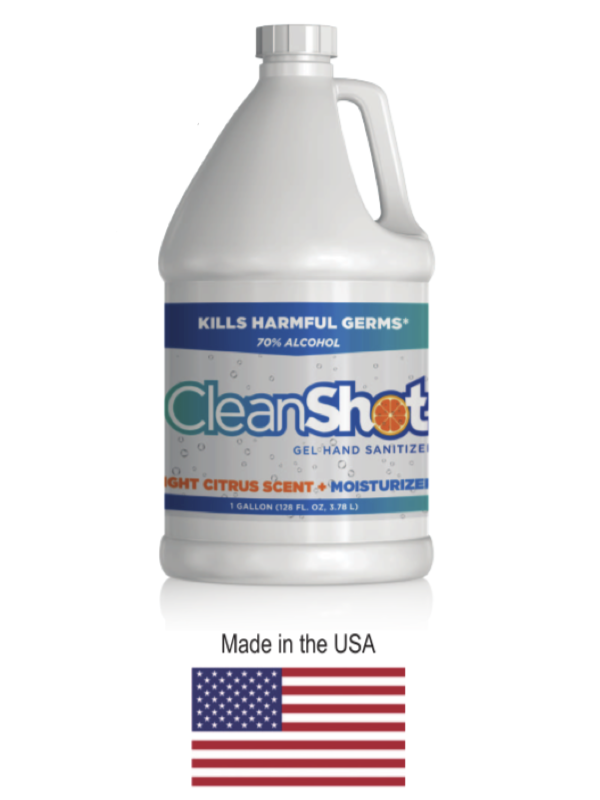 CleanShot Gel ™ kills 99.9% of most common illness-causing germs on contact
without drying or irritating the skin. Its gentle formula is free of harsh preserva-
tives, dyes, and other chemicals and contains a powerful moisturizing ingredient
to help maintain skin hydration and health. Take a CleanShot™ often through-
out the day and share with others to help protect your health and the health
of employees, co-workers, family, and friends.
CleanShot Gel IN is 70% alcohol, which has been proven to kill germs
including bacteria, viruses, and fungi. With its light, refreshing orange
scent and soothing glycerin to seal in moisture, you can enjoy using
CleanShot over and over again without fear of drying or irritating your skin.

CleanShot™
ORDERING INFORMATION

1 gallon
plastic jug
PC-9007-G01
5 gallons
plastic pail
PC-9007-G05
55 gallons
poly drum
PC-9007-G55
275 gallons
poly tote
PC-9007-TOTE
KILLS HARMFUL GERMS*
70% ALCOHOL
CleanShot GEL
PACKING & SHIPPING INFORMATION
UNIT SIZE: 1 gallon (128 fl. oz / 3785 ml)
UNIT NET WEIGHT: 7.05 lbs
UNIT DIMENSIONS: 6″ radius x 12″ height
UNITS PER CASE: 4 x 1 gallon
CASE DIMENSIONS: (Lx W x H): 13 x 13 x 12
CASE GROSS WEIGHT: 30.28 Ibs
CASE NET WEIGHT: 29.28 Ibs
CASES PER PALLET: 36
PALLET DIMENSIONS: (Lx W x H): P48″ x 48″ x 55′
PALLET WEIGHT W/OUT PALLET:
1.198.08 lbs
PALLETS PER TRUCKLOAD: 24
Made in the USA

Inactive Ingredients: Water, Glycerin, Hydroxyethylcellulose, Aminomethyl
Propanol, Fragrance (Parfum)
Contact us for pricing and ordering information:
[email protected]